---
---
---
---
Free installation check when you buy Clek
Not sure whether you installed your Clek seat correctly? Click here
to make your virtual appointment when you buy a clek car seat.
---
---
---
---
---
---
---
---
---
Safety Obsessed, so you can
Enjoy the Ride.
>
Sure, you have to make a lot of compromises as a parent. But when it comes to the safety of your kids? No way. When we became parents, we realized that the car seats available to us came with a trade-off. More safety, meant less convenience. More convenience, meant less style. We knew we could do better, so we did.

Safety is the reason we're doing this in the first place - to protect the wellbeing of our children and yours. From thoughtful design to impact-reducing materials, all of our baby and toddler car seats and booster car seats are equipped with best-in-class safety features. We've introduced revolutionary safety technology to the industry - including the REACT™ Safety System - and we plan to keep on raising the bar when it comes to protecting your kids.
---
---
---
---
---
---
Award-Winning Car Seats
That HelpYou Protect What Matters Most
We're Clek, a proudly Canadian brand creating award-winning infant car seats, convertible car seats and booster seats that combine safety with parent-friendly ease-of-use and modern style. Our car seats and accessories unite superior design, engineering excellence, world-class manufacturing, and the craftsmanship formerly found only in luxury automotive seating. The result?One-of-a-kind seats that will keep your kids happy and comfortable and allow you to relax and focus on the ride.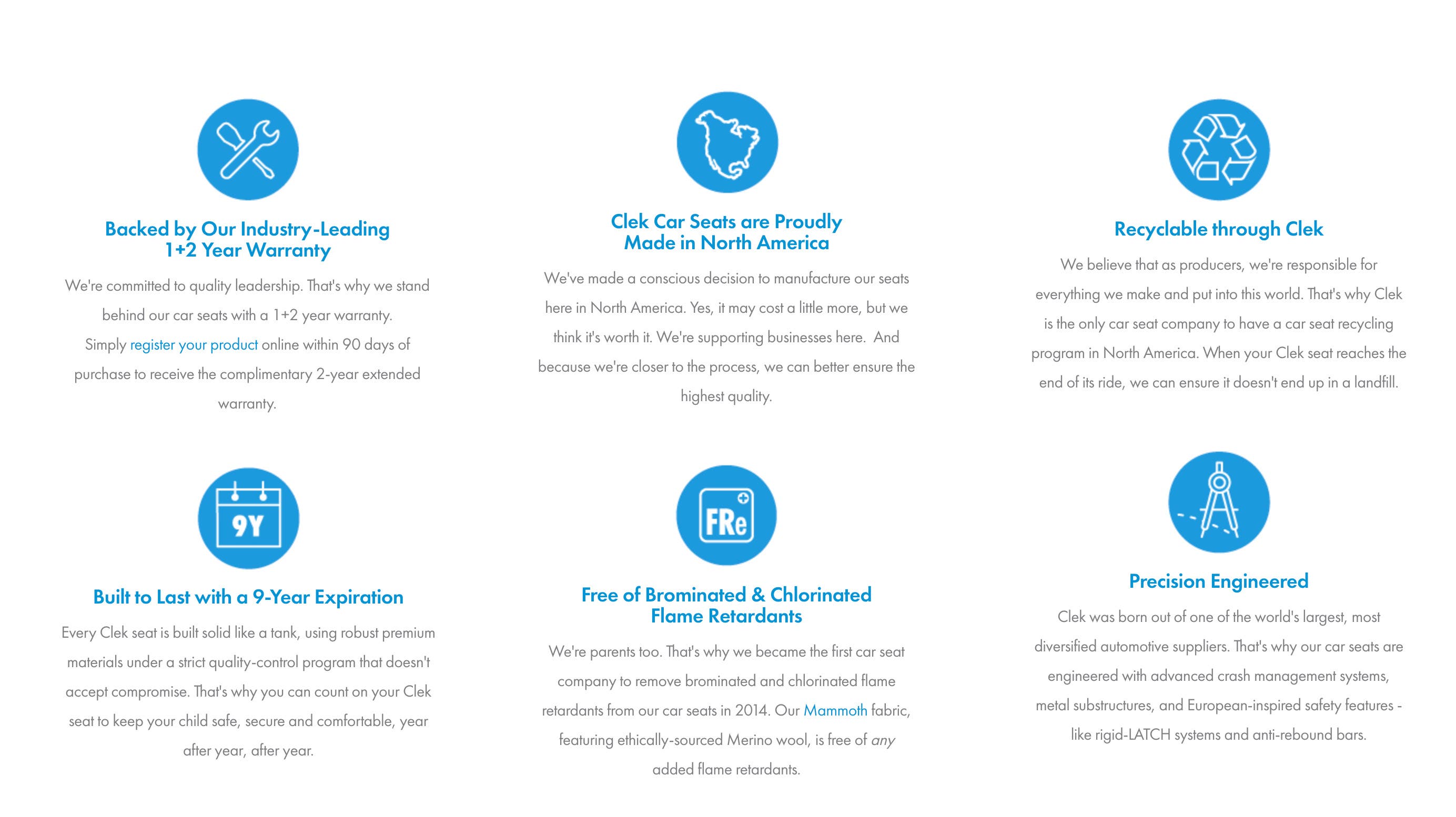 Clek
Clek is a Canadian brand that makes award-winning car seats for infants, toddlers, and kids. Clek's products are designed to be safe, comfortable, and stylish. Clek's car seats have features such as rigid LATCH connectors, steel frames, energy-absorbing foam, and anti-rebound bars. Clek also offers a recycling program for its car seats, which reduces waste and environmental impact. Clek offers a range of car seat styles so you can get out into the world and do more with your family. Explore the best selection of Clek car seats, booster seats, and accessories in Canada at West Coast Kids, including top sellers like Foonf, Oobr, Fllo, Olli, and more. We also offer free Canada-wide Shipping for orders over $49! Explore our full selection and shop new Clek sales on strollers and stroller accessories.